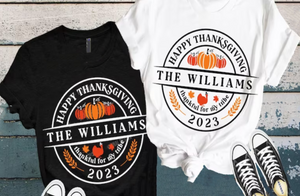 Represent your family with our thoughtfully designed t-shirts that are a perfect representation of your family's unique bond and shared love.
 Add your family's name to customize!
Our Graphic Tees are crafted with the following details:
– Ultra-comfortable and soft for all-day wear
– Made in USA
– Care Instructions:
Do not iron directly on your image
Turn shirt inside out
Cold water wash & air dry
Do not bleach or dry clean

This item is Made to Order.
All shirts are cotton unisex shirts.